Eddie and Beverly Tilley were involved in their first Home Mission church on Grand Isle, LA when they first felt their call to missions. With a very strong dream about Sister Nix and the nation of Rhodesia, now Zimbawee, a call to missions was planted. After being initially turned down as missionaries to Rhodesia, because of age, 23 years old, they proceeded to build another Home Mission work in Ville Platte, LA.
Finally, in 1977 they were appointed to the nation of Norway and the next 27 years is a history of opening the nations of Norway, Sweden, Denmark, and also working in several other European nations, in particular Finland and Bulgaria.
Returning to the States in 2004 initially with Spirit Of Freedom ministries, Ed and Bev became pastor of the Pentecostal Gospel Lighthouse in DeRidder, LA. Ed now serves as the LA Global Missions Director, and now as the Chairman of the VGMA.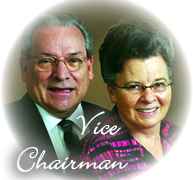 Biography: Lloyd and Nancy Shirley, 1964 graduates of Apostolic Bible Institute, evangelized before taking a pastorate in Worthington, Minnesota. In the early 1970s they felt a burden for the Caribbean area and were appointed as missionaries to the Leeward Islands in February 1973.
They arrived on the field with their two children, Steve and Cylinda, in August 1974. In 1975 the Shirleys established Lighthouse Bible School in St. Croix and held short-term Bible school sessions in other islands. They also supervised pastors and AIM workers, evangelized, planted churches, and constructed and remodeled buildings. In October 1991, the GMB recommended Brother Shirley as the regional director for Central America/ Caribbean. He supervised 31 missionary families and numerous AIM workers as well as assisted in the oversight of more than 2,000 churches and preaching points. In addition to his regional responsibilities Brother Shirley was the field superintendent for Guyana, Puerto Rico, Belize, and the Leeward Islands.
Brother Shirley became the director of Education and Associates In Missions in 1999. His innovative ideas, burden for the lost, and helpful spirit made him the ideal choice to expand the AIM program and to assist in other areas of the Global Missions Division.
Brother Shirley retired from Global Missions Division in December 2010. He and his wife now live on a lake in Arkansas, where he enjoys fishing to his heart's content. He was elected vice-chairman of the VGMA at the annual business meeting in October 2011.
Biography:Tremayne and Vicki have served in missions and ministry over 30 years. Tremayne is an African MK (missionary kid), and he and Vicki are veteran missionaries to Botswana, Zimbabwe, Mozambique and Malawi. They now pastor in Houston, Texas.